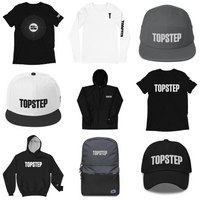 Shop Our Entire Catalog
Trading is more than an activity, more than a passion, more than a calling. It's a lifestyle, a set of rules, and a mentality towards every aspect of your day. 
Traders think in verticals—ups and downs, gains and losses. In navigating these peaks and valleys, traders must wade through murky clouds of overpromising, legalese, and fine print. The Topstep Logo sits at the heart of the system to reflect the brand spirit of radical honesty and true grit.
Our way is not for the faint of heart, but it has been proven to turn people who trade, into Traders. Show the world you're a Topstep trader, and shop our entire catalog of apparel for traders.
Shop Catalog